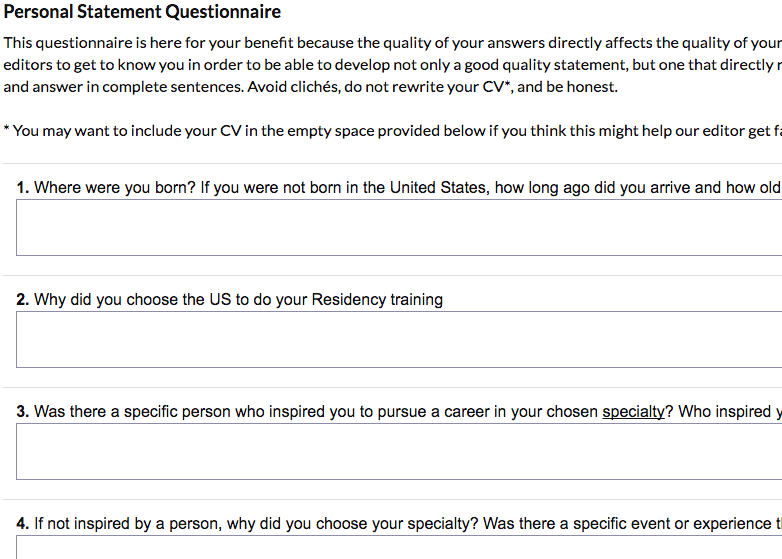 S-WS
Statement Writing Service
Residency Statement's Writing Service (S-WS) is the world's only full service US Medical Residency Personal Statement writing resource for the busy medical professional. Rather than spending hours or days wading through writing on your own, you can work side-by-side with an experienced writer to craft the perfect Personal Statement from scratch.
The S-WS service and your Writer will be there to help you through every step of drafting a Personal Statement from brainstorming through our questionnaire, to completing a first draft and finalizing your complete Personal Statement.
Overview
Follow the S-WS' simple 4-step procedure to put together your Personal Statement.
Expert Brainstorming Guidance
Residency Statement's unique Writing Questionnaire was researched and Written to thoroughly cover any potential themes, ideas, or content every Personal Statement needs to give the most complete and positive picture of you.
Collaboration, Cooperation & Communication
Spend uninterrupted one-on-one time with your very own professional Writer as you work together to complete the perfect Personal Statement. Have any questions or concerns during the Writing process? Leave a message for your Writer at any time in our Messaging System, and they will respond as soon as they can.
Creative & Individual
Your Personal Statement should be a reflection your personality, skills, and life experiences. With that in mind, each Personal Statement is Written entirely without the use of templates or samples to ensure a personalized document.
Procedure
1

Brainstorming

Fill out the comprehensive Writing Questionnaire to the best of your ability and submit your answers.

2

Drafting

You will be assigned a Writer to work with you throughout the process. Your Writer will begin putting together your Personal Statement right away.

3

Return Copy

The first version of your brand new Personal Statement will be provided to you for you to review, ask questions, and make any comments.

4

Delivery

Based on your feedback, a finalized copy will be provided for your use throughout the Residency Match Season.